One of the latest trends in embroidery is adding fluffy chenille yarn to sweatshirts. This looked so cool to me so of course I had to try it! The videos I have seen involved people putting their fingers wayyyyy to close to the needle so I thought there has to be a better way. So I have been playing with it and I think I have a good solution. I tested this project out on 3 different machines. My Brother Persona was the easiest to work on. The presser foot allows you to have the fluffy yarn with no problem. I also tried it on my Baby Lock Altair, which allows me to raise the height of the presser foot. So I was able to do this kind of project on my flatbed single needle machine. The last one I tried was my Brother PE800. This machine does not have an option of adjusting the presser foot height. This made it a little bit more challenging, however I was still able to get it done!
In this tutorial, I will go over tips and tricks to help you to embroider with chenille yarn. As I mentioned above, this project can be done on any machine, but I will be using my Brother Persona. As a bonus I have a FREE Heart design download for you to try this technique! I will also go over how to use some bean stitch designs and fonts you already have, and make them chenille yarn friendly.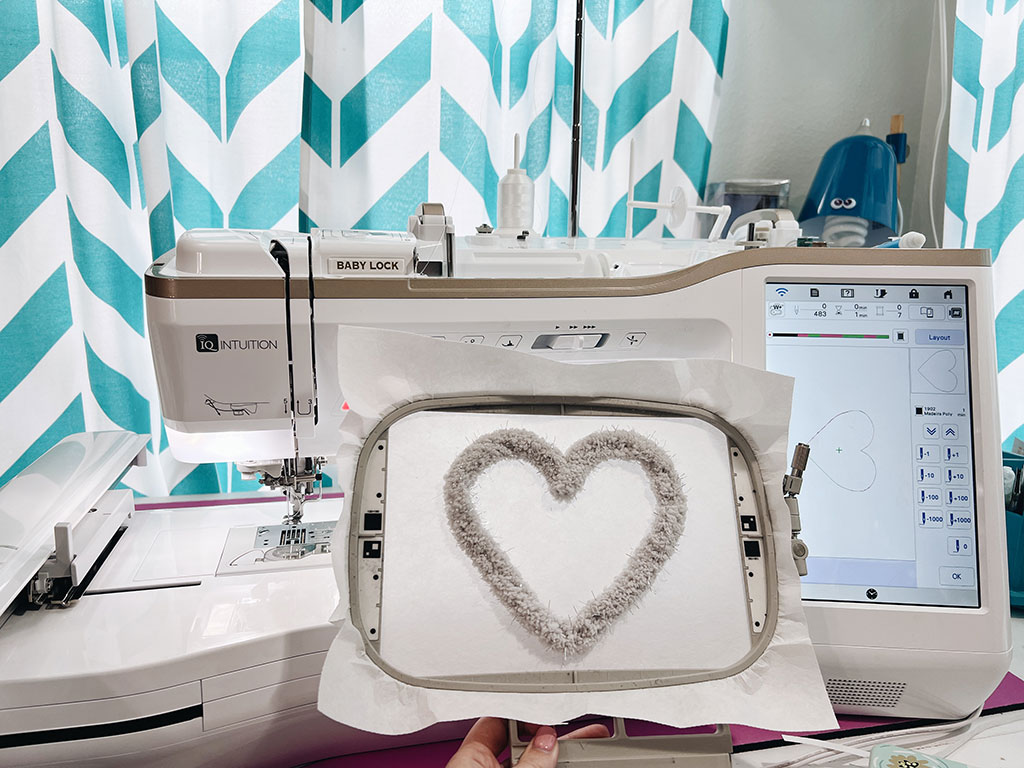 This post contains affiliate links and I will receive a small commission if you make a purchase after clicking on my link. All opinions are my own and I only promote products that I use and love.
Chenille Yarn Embroidery Supplies:
💻 Get on the From Start to Stitch Waitlist
❤️ Join my Creative Fabrica Fans Membership page
💌 Sign up for my E-mail Newsletter
🧵 Join my Facebook Group for discussion and help on machine embroidery and crafting with vinyl
You can checkout all of my previous Sip & Stitch projects here. I look forward to chatting with you the next time I am live. You can get info on all of my upcoming projects on the Sip & Stitch Homepage. I am live on my YouTube channel every other Friday morning with a new tutorial 😁.
🌟🌟🌟 I now have a direct contact at Sewing Machines Plus if you have questions or are ready to purchase a new machine. Call Jean at 800-401-8151 Ext: 139 or email her at [email protected] Tell her Karlie Belle sent you 😘.
Thanks for stoping by!