In celebration of the upcoming 4th of July holiday, this week's project is how to make in the hoop 4th of July bunting. This was my first time working on a project like this. It was new both in terms of bunting and that this project takes several hoopings and then comes together to form one large project. My good friend Carol introduced me to Sweet Pea Embroidery Designs a couple of months ago and I loved how detailed their designs are! Lots of their designs require multiple hoopings to create larger projects, which is great for those that have a machine with only a 5×7 hoop and want the opportunity to make bigger items.
Another fun aspect of this project is that it requires a little bit of sewing. Don't worry if you are a novice at sewing, I am definitely a beginner myself! It is just a straight line stitch to finish off this project which is just about all I know how to do 😂.
In the Hoop 4th of July Bunting Supplies:
Cut Away Stabilizer use coupon code "karliebelle" for 10% off
Applique Fabric

I am using several red, white, and blue fabrics that I got from Joann
Each applique size is listed in the pdf instructions that comes with the design when you buy it.

Sewing Machine or combo machine like my NQ3600D
I really enjoyed making this project! I have always been a fan of bunting for holiday decorations. Now that I know I can make them on my embroidery machine, I want to make some for every holiday 🎃🎄🎆🐇.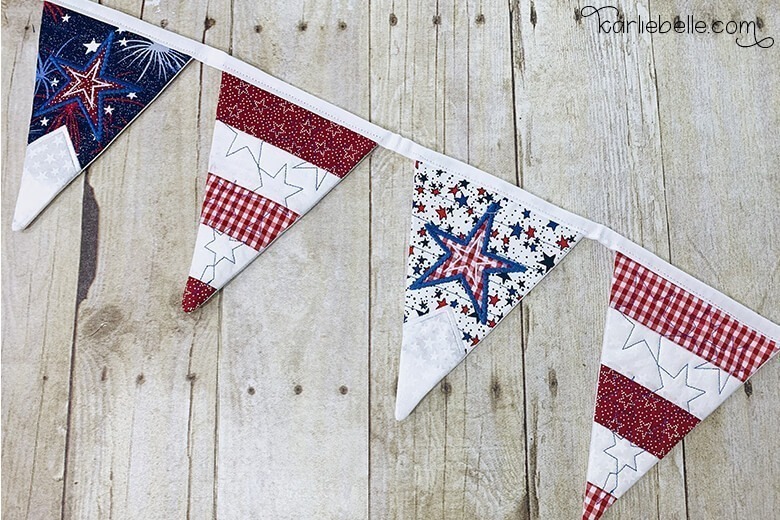 I hope you enjoy this project as much as I did! For those of you that watch til the end of the video, I was able to make it to the festival and it was not raining there 🙌.
You can checkout all of my previous Sip & Stitch projects here. I look forward to chatting with you the next time I am live. You can get info on all of my upcoming projects on the Sip & Stitch Homepage. I am live on my YouTube channel every other Friday night with a new tutorial 😁.
Thanks for stoping by!

This post contains affiliate links and I will receive a small commission if you make a purchase after clicking on my link. All opinions are my own and I only promote products that I use and love.